Overall
---

---
We took our most popular ozone generators and combined with all the ancillary components that make up the perfect turn-key systems. The Ozone Cooling Tower Systems (OCT) from Ozone Water Technologies are properly designed in size and as uncomplicated as possible.
The OCT series are turn-key, skid-mount, air-cooled, corona discharge (CD) type ozone/water contacting systems specifically designed for cooling tower applications. The system incorporates complete CD type ozone generator with internal PSA oxygen module, system operation & function indicating control panel, ozone injector with bypass valve, water backflow prevention device, PVC contacting vessel with degas valve, gray epoxy powder coated mild steel cabinet with stainless steel mounting base and with the main function of ORP controlled auto ozone output adjusting & ozone safe interlock. The oil-less compressor, water boost pump, ORP controller & ozone destructor are optional. The OCT series are capable of producing ozone in 10, 20, 30 & 40g/hr to treat cooling tower from 100 up to 800 Cooling Tons. They can be connected in parallel for 1000 Tons and up output.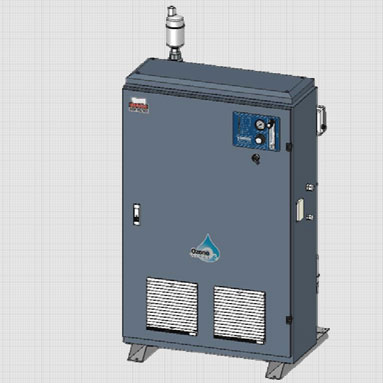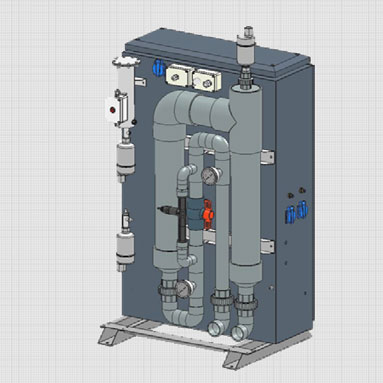 Design Features
Corona Discharge (CD)
Integrated PSA Module(s)
Contacting Vessel Combined
Degas & Auto Drain Valves
Oil-less Compressor(s) Equipped
Automatic Control
Ozone Boost Pump
ORP Controller
Ozone Destructor
Benefits
Power & water saving
BioFilm & scale reduced
Improve heat mass transfer
Cleaner & lower sewer charges
Less corrosion on all wetted parts
Safe green technology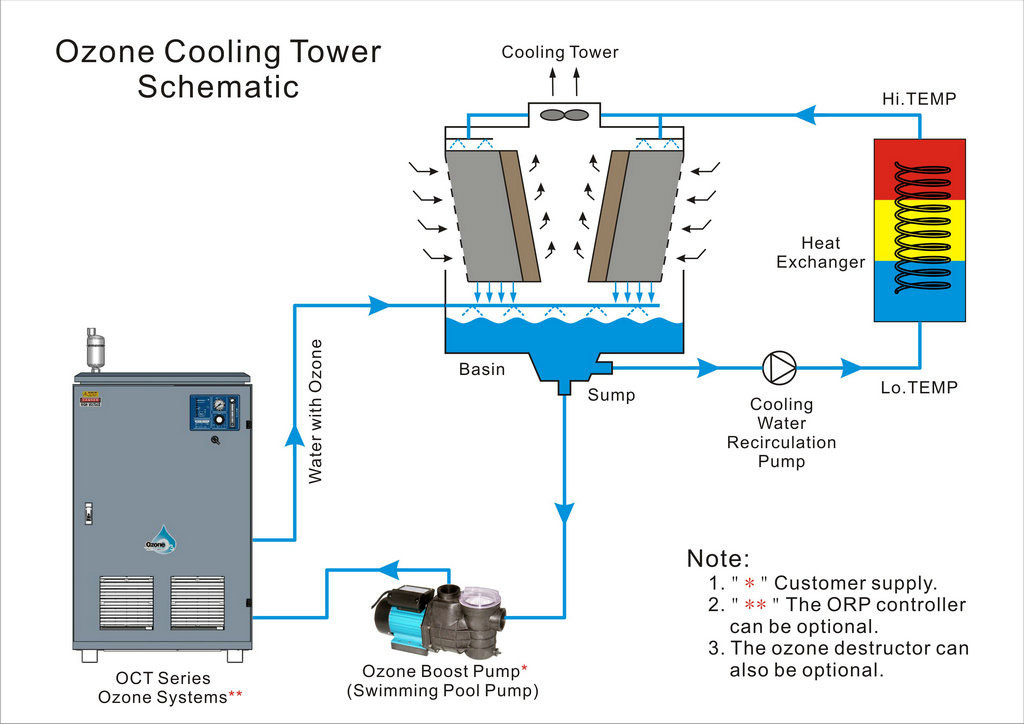 SPECIFICATION
OCT-10
OCT-20
OCT-30
OCT-40
Ozone Output
10g/hr
20g/hr
30g/hr
40g/hr
Matched Cooling Ton
100-200T
200-400T
300-600T
400-800T
Equipped Oil-less Compressor QTY. (Flow @ Pressure)
One
(2.4SCFM @ 30psi)
One
(2.4SCHM @ 30psi)
Two
(4.8SCHM @ 30psi)
Two
(4.8SCHM @ 30psi)
Water Connection Size
Inlet: 1-1/4"
Outlet: 2"
Inlet: 1-1/4"
Outlet: 2"
Inlet: 1-1/4"
Outlet: 2"
Inlet: 1-1/4"
Outlet: 2"
*Power Requirement
120V 60HZ
Single Phase
500W
120V 60HZ
Single Phase
650W
120V 60HZ
Single Phase
1050W
120V 60HZ
Single Phase
1200W
**Ozone Boost Pump Requirement
10GPM @ 60TDH
20GPM @ 60TDH
30GPM @ 60TDH
40GPM @ 60TDH
**ORP Controlled
Yes
(Set @ 200-300mv)
Yes
(Set @ 200-300mv)
Yes
(Set @ 200-300mv)
Yes
(Set @ 200-300mv)
Note: "*" Power supply not included. "**" Furnished by contractor.